As a ControlUp Expert, I do have access to some alpha and beta versions and the upcoming 7.1 version (expected on March 1st 2018) will offer some new interesting features:
Citrix XenApp / XenDesktop Published Applications – ControlUp can now be integrated with XenDesktop to offer unprecedented real-time visibility for published applications. All your published apps are now available in ControlUp's powerful grid, which allows for quick troubleshooting, assessment of current activity and fast drill-down to the session level to show detailed activity. The new views include:

The list of applications currently published, including their name, state (enabled / disabled) and other metadata.
Real-time metrics displaying the current configuration and activity associated with the published application, such as:

Number of computers on which the application is published
Number of computers on which the application is available
Number of users who currently have an open instance of the application

Ratio metrics that enable for diagnostics, troubleshooting and alerting, for example a metric that shows how many of the computers on which an application is published are actually available for user connections.
Built-in management actions allow for enabling and disabling published applications without leaving the console.

NetScaler Monitoring – ControlUp can now monitor NetScaler appliances in real-time. ControlUp's grid will present the appliances as well as their associated configuration objects and will visualize the performance and resource utilization, including the following:

Performance metrics such as management CPU and packet CPU utilization, memory usage, traffic flow rates and more
Configuration information, such as whether the appliance config is saved or not
Gateways, NICs, HDX Sessions and Load Balancers including service groups and members, along with their activity metrics
Familiar ControlUp-style drill-down capabilities enable for quick root cause analysis and troubleshooting of multiple NetScaler appliances at a glance
Built-in management actions allow terminating HDX sessions established on NetScaler appliances

NVIDIA GPU – ControlUp can now monitor vGPU metrics (GPU utilization, frame buffer utilization, and encoder/decoder utilization) on the process level, provide the vGPU metadata for the computer (GPU model, architecture, number of cores, etc.) and enable for monitoring overall GPU utilization and resource consumption.
Extended Host & VM information – virtualization admins will enjoy additional information added to the virtualization hosts and VMs views, including: server hardware vendor, server model, CPU speed, CPU clock, memory ballooning and memory swapping, NTP status, as well as detailed core and socket information for the VMs.
Detailed Storage Views for XenServer and Hyper-V – ControlUp can now be integrated with all supported hypervisors to allow full visibility for storage-related objects and metrics, including:

Monitoring datastores IOPS, latency, rates, free space and more
Show which hosts are using which datastores and the respective resource consumption
Monitoring virtual disks performance metrics

Shared Credentials Store – ControlUp now allows to manage credentials centrally so all authorized users can use shared credentials sets. This enables for a more streamlined management of credentials and a quicker onboarding process for new ControlUp users which does not require them to know the service usernames and passwords.
Contextual Drilldown – ControlUp now allows faster troubleshooting with the ability to drill down based on context in order to locate the components that are causing irregular resource consumption. The familiar double-click drill-down is now column aware, which means that double clicking on a computer CPU column will automatically switch to the user sessions view sorted by CPU, ensuring that the relevant CPU utilization columns are in view. This feature saves the admin the extra effort of looking for the relevant metrics and sorting the view to highlight top consumers.  Smart drill-down behaviors are configured out-of-the-box and can be customized to speed up ControlUp's root-cause analysis capabilities.
Scoring columns – new scoring columns summarize major aspects of activity and resource consumption for your monitored resources, enabling you to obtain faster insights on the current behavior of virtualization hosts, computers, and users. The scoring columns summarize utilization of a specific resource, reducing the number of metrics you need to keep an eye on at any given time, while retaining full visibility and allowing for fast drill-down to explore the composite scores.

CPU Score
Memory Score
Disk Score
Network Score
UX Score

Miscellaneous enhancements

Column preset drop-down on the home ribbon – you can see the current column preset right above the grid and change it with just two clicks
Actions

Go to Insights action – opens ControlUp Insights and focuses on the relevant reports for the selected resource to analyze its historical behavior

RDP to Computer from Logical Disks – enables for quickly logging onto a computer when irregular disk usage behavior is detected
Session protocol columns

Protocol bandwidth utilization and bandwidth limit for RDP and Blast remoting protocols
Round Trip Time (RTT) for HDX, RDP and Blast sessions

Licensing enhancement – License count now excludes system sessions on remote desktop session hosts (terminal servers), which means that a RDSH with no user session will not consume any licenses.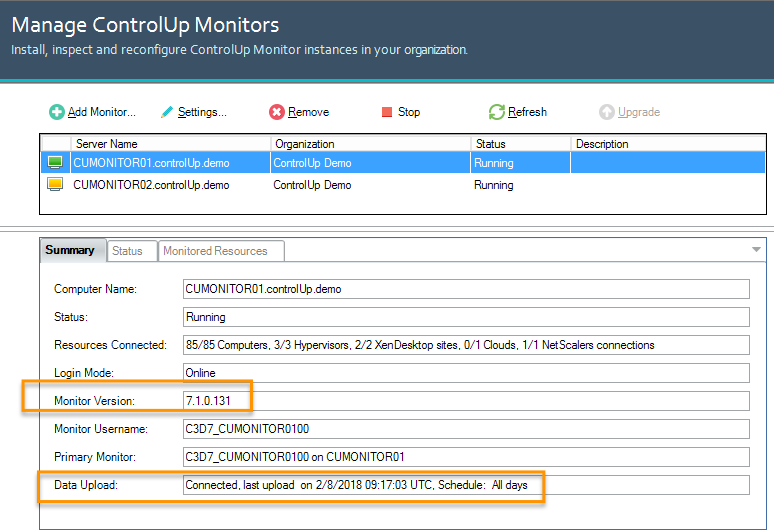 If you need more information about the product you can contact ControlUp: www.controlup.com